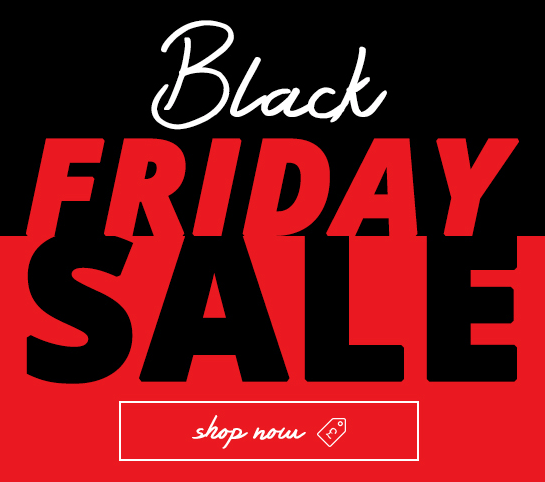 It's started! No longer restricted to just one day, Black Friday lasts a whole week and in a lot of cases a whole month!
As this event has grown in prominence and online shopping has made searching for a special deal so easy, many more shops and indeed businesses launch deals well ahead of the big day. Many try to beat the crowd, marking Black Friday deals down weeks in advance, so you could get something special at a fraction of the cost right now!
Why is Black Friday so popular?
This year Black Friday falls on 29 November 2019, and is always the day after Thanksgiving in the US, officially marking the start of the festive holiday shopping season. Its origins stem from being the day on which retailers begin to turn a profit, or are in the 'black'. Traditionally aimed at electronics, TVs, tech, clothing, toys, all sorts of bargains are now available at their lowest prices of the year, so say!
Back in 2010, the online retail giant Amazon introduced the event to the UK. Owned by America's biggest retailer Walmart, Asda followed suit in 2013. Cyber Monday always follows swiftly of the heels of Black Friday. It used to be a separate event in it's own right until 2015 when it merely became an extension to the Black Friday weekend.
One could think that the gains made in November are cancelled out by reduced transactions in the shorter December month, as customers have already bought their seasonal gifts, often at lower prices. So in order to turn this risk into a positive, you need to view Black Friday as the beginning of a campaign that will keep people coming to you throughout the final months of the year.
It's amazing at Amazon
While most UK retailers are set to launch their Black Friday deals on 29 November, Amazon has gone one better by revealing that shopping festivities will start over a week earlier. The online retail giant's biggest ever Black Friday event is set to span over a whopping eight days, giving shoppers the chance to get their hands on some serious bargains.
It wouldn't be Black Friday without Amazon promoting its own products, and this year should be no exception. Amazon devices are expected to retail at their lowest-ever prices for Black Friday 2019, making it the perfect time to grab the biggest discounts, including TVs, tech, mobile phones, appliances, laptops, tablets, consoles, and smart devices.
Consumer behaviour
Published articles discuss the psychology of Black Friday and suggest that offering 'limited time only' deals can keep people coming to you, and the momentum and awareness that Black Friday gives, when done well, potentially can make future engagements even more successful. As thousands of retailers cut prices and customers are actively willing to spend their money, it's just a question of directing this to your business to drive sales upwards.
Consumer psychology says "It's all about our brains and a chemical called dopamine that is linked to human desire and eventually addiction, and is released in a pleasurable surge that people experience whilst doing something thrilling, like buying a bargain-priced TV!"
So we need to ensure that our campaigns trigger the release of dopamine so we don't lose out to competitors on Black Friday, by offering the most tempting and exciting deals that cannot be resisted.
2018 delivered highest online sales
UK online shoppers spent £1.49bn on 2018 Black Friday; an increase on the £1.39bn spent online the previous year. The ONS reported that November 2018 saw online sales as a proportion of all retailing exceeding 20% for the first time.
The results were not quite as buoyant on the actual high street, as in-store retail spending reportedly dropped 7% compared to 2017, despite beating analyst expectations. Barclaycard also announced that overall spending was down 12% on the previous year, despite 10% more transactions being made overall.
The general consensus in 2018 seemed to be that consumers were increasingly abandoning high street retailers in search of bargains online, as well as being slightly more cautious and perhaps sceptical about splashing out on big-ticket purchases.
Hot tap deals
With interest in Black Friday remaining strong be sure you are ready for the surge in awareness and online transactions with your sales and website resources and that Cyber Weekend is a positive boost for business.
For us in the hydration and wellbeing sector, we promote our best offers, limited editions and lowest prices in the year! 2019 sees some great deals on the hottest appliance in the kitchen. Check out our KettleTap offers and with interest free credit for homeowners order now and get your fantastic kitchen aid in time for Christmas!